MossBack Fish Habitat Partners with Major League Fishing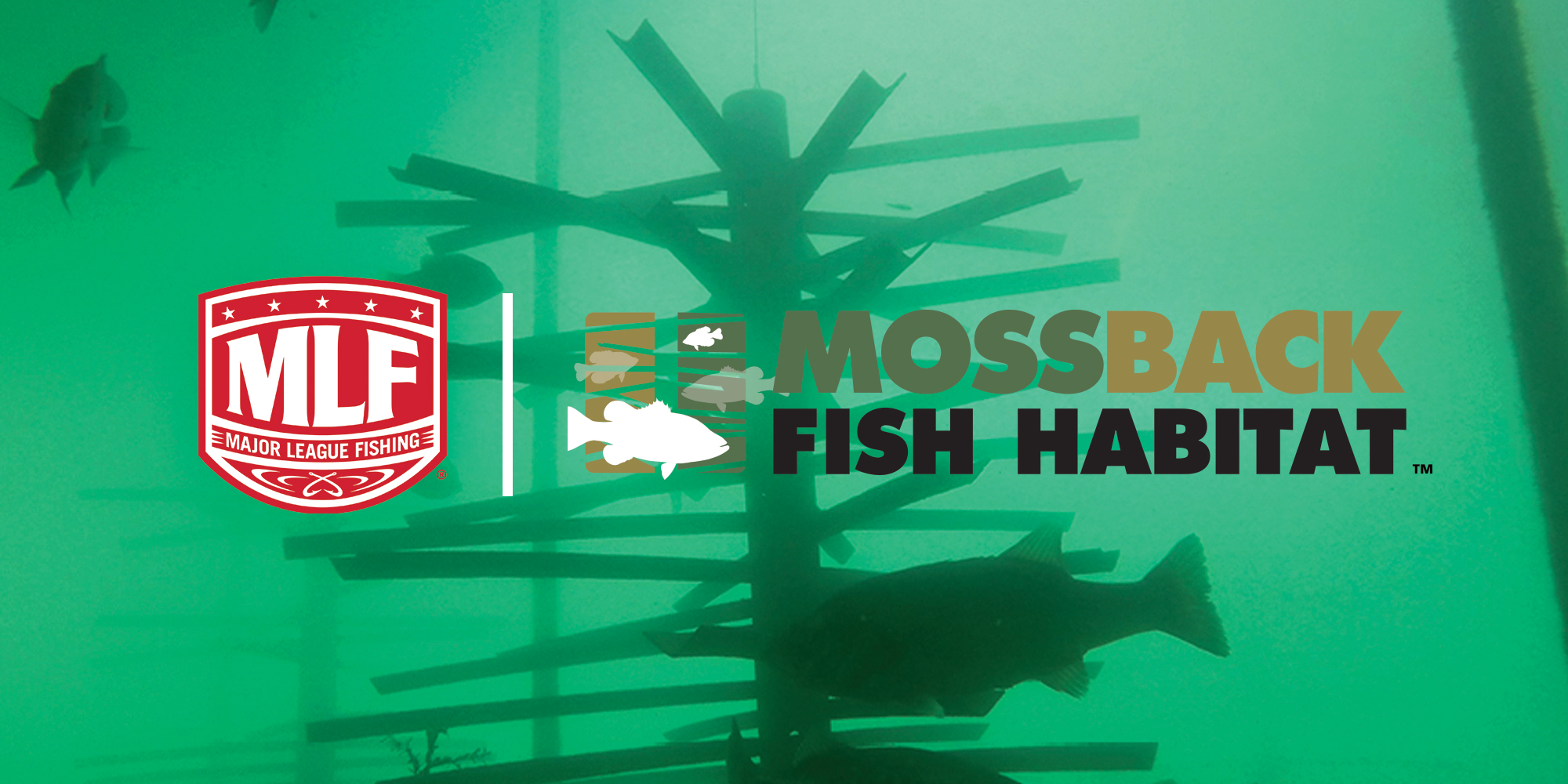 MLF Pros to Join High School Bass Clubs in Planting Habitat at Two Bass Pro Tour Fisheries in 2021
TULSA, Okla. (Jan. 12, 2021) – Major League Fishing (MLF), the world's largest tournament-fishing organization, announced today a sponsorship agreement with MossBack Fish Habitat, a full-line manufacturer of artificial habitat for fishing and fisheries management. MossBack Fish Habitat is now an official conservation partner of Major League Fishing and will be showcased throughout the 2021 tournament season.
In addition to the sponsorship agreement, a local habitat development program will be conducted at two MLF Bass Pro Tour stops in 2021 – the General Tire Heavy Hitters event, April 9-14 in Raleigh, North Carolina, and the Bass Pro Tour Stage Four event, June 4-9 at Lake Chickamauga in Dayton, Tennessee. Select MLF pros will be joined by local high school clubs during the week in planting MossBack habitat at prominent locations around the fisheries. The MLF pros will then return with the high school anglers a few days later to fish the new planted habitat areas and showcase the positive effects that planting habitat has on the fishery. Additional details on the habitat development program will be forthcoming.
"The quality and workmanship of their artificial fish habitat, along with their commitment to conservation make MossBack an excellent partner in the MLF sponsorship portfolio," said Jim Wilburn, MLF President and CEO. "Their partnership is a great fit and we look forward to building a long-term relationship with them."
"As most fishermen and outdoor enthusiasts know our fisheries are losing natural habitat at an alarming rate," said David King, owner and president of MossBack Fish Habitat. "We at MossBack are passionate about protecting and expanding the future of fishing. MLF and their anglers share our desire to give back to the communities and fisheries they visit and we see this partnership as a great opportunity to improve our public waters and make fishing better and more enjoyable for everyone. We are excited to work with MLF and join their great sponsor lineup to continue to improve our lakes and rivers and expose new anglers to fishing to get them hooked for life."
MossBack Fish Habitat will be prominently featured on the MLF Bass Pro Tour and MLF Tackle Warehouse Pro Circuit television broadcasts, along with MLF Bass Fishing Magazine, newsletters and at MajorLeagueFishing.com. MossBack Fish Habitat will also be showcased as a sponsor of Bass Pro Tour anglers Mark Rose and Greg Vinson, and Tackle Warehouse Pro Circuit anglers Evan Barnes, Greg Bohannan, Bill McDonald and James Niggemeyer.
For more information about MLF, their tournaments and sponsors, visit MajorLeagueFishing.com. To learn more about MossBack Fish Habitat, visit MossBackFishHabitat.com.
About MossBack Fish Habitat
MossBack Fish Habitat provides a spectrum of products to help you achieve any pond or lake habitat goal. Whether placing product to provide ambush points for trophy sport fish, or creating maximum protection for forage and fry, MossBack structure is made to resemble the look and feel of natural cover and last a lifetime. Features such as the use of natural colors, textured surfaces throughout, flexible and snag-resistant limbs, ease of assembly, and versatility of deployment make Mossback Fish Habitat products a realistic, long-lasting, and logical choice. From concept to creation, helping improve your fishery is at the heart of everything MossBack does. For more information, visit MossBackFishHabitat.com.
About Major League Fishing
Founded in 2011, Major League Fishing (MLF) brings the high-intensity sport of competitive bass fishing into America's living rooms on Outdoor Channel, Discovery, CBS, CBS Sports Network, World Fishing Network, Sportsman Channel, and on-demand on MyOutdoorTV (MOTV). According to Nielsen ratings, Major League Fishing remains the number one series on Outdoor Channel for five years and MLF premiered as the number one outdoor show in their time slot on Discovery in 2019.
In 2019 MLF acquired FLW, which expands their portfolio to include the world's largest grassroots-fishing organization, including the strongest five-biggest-fish format professional bass fishing tour, the MLF Tackle Warehouse Pro Circuit presented by Bad Boy Mowers, as well as the MLF Toyota Series, MLF Phoenix Bass Fishing League presented by T-H Marine, MLF Abu Garcia College Fishing presented by YETI, and MLF High School Fishing presented by Favorite Fishing.
# # #